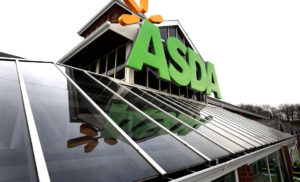 High efficiency CIAT VECTIOS packaged rooftop cooling units have been chosen by ASDA for installation in stores across the UK as part of a programme of equipment replacement and upgrade. Supplied by TCUK distributor Cool Designs Ltd, the CIAT VECTIOS units offer excellent energy efficiency, surpassing current EU Ecodesign requirements for seasonal efficiency (SEER > 3.53 and SCOP >3.20), and enabling an improvement of 37% against the requirements of EU Tier 1.
Andy Gill, Regional Sales Manager for Cool Designs, said: "VECTIOS is a good solution for clients seeking a high-efficiency, reliable rooftop unit that operates with low noise. CIAT's VECTIOS unit combines these features with a competitive price point, which we believe is a compelling combination."
Based on hermetic tandem-scroll compressors, VECTIOS units are quiet in operation and proven to be highly reliable. Configured as a horizontal, autonomous unit, they are designed for installation on a store's rooftop, connecting directly to the building's air distribution system. They do not require any additional components, pipes or cables, freeing up valuable space at ground-level around stores.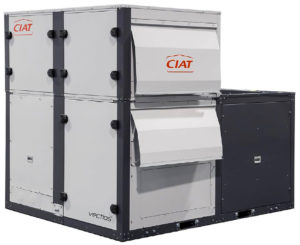 The design enables quick and easy connection by the installer, reducing the cost of installation and reducing the risk of errors. ASDA chose VECTIOS units equipped with dual refrigeration circuits, providing excellent resilience by enabling the system to continue to deliver cooling to the store in the unlikely event of a failure in one circuit.
The Vectic intelligent control system continually adapts the unit's cooling output in response to alterations in external temperature and store load, thereby optimising performance and maximising energy efficiency.
Efficiency is supported by the use of electrically commutated (EC) axial fans, which control rotation speed according to the amount of cooling required, in line the store's requirements. This also helps minimise sound levels. VECTIOS also has a free-cooling capability, allowing it to harness outdoor air for store cooling when conditions are favourable. Using this, mechanical cooling can supplemented with 'free' cooling from the environment, with the percentage of outdoor air introduced varying between 0 and 100%.