Auto Changeover Solutions
If you have a room that needs a couple of system in a Run / Standby configuration we have two great solutions: –
A bespoke control panel that we can build to provide auto changeover, duty share, high temperature alarm etc.
A more cost-effective off-the-shelf solution using Toshiba RBC-TSI1 interfaces.
The bespoke panel is straightforward, it does what it says on the tin. The trouble is, it can be a costly option when a simpler off-the-shelf solution is needed.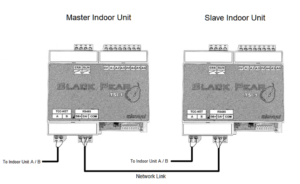 Toshiba RBC-TSI1 Interface
Using a Toshiba RBC-TSI1 for each system installed, we can link them together and provide an easy off-the-shelf solution. With one unit assigned as the Master, the slave will operate alternately on a timed basis. The Master unit determines the control parameters and cycle time. The Cycle time can be changed from anything between 1min and 2 weeks. Obviously, if the running unit fails for any reason, the slave unit is brought on automatically.
This is only suitable for a room with two units. If you have more than two units you will have to use the bespoke panel option.
For more information on this or any other controls solutions, get in touch with your local CDL Sales Engineer. We are always here to help.