CDL staff contribute to the Toshiba HVAC 50,000 goal.
We have all continued efforts into May to keep things going and whether it's walking, run or cycle, the miles are contributing to the overall total goal where funds raised will be donated to St Luke's Hospice.  CDL has also pledged to match the donation with HVAC UK.
Whether it is just ten minutes on your lunch break or a few hours at the weekend, a daily dose of movement has huge benefits for both our brain and body. When we consider the last 12 months of lockdowns and restrictions it no doubt takes its toll on our well-being, we are hoping that the more of the team that gets involved, not only will it help us to improve our physical and mental well-being, it is also about working together, as one large team.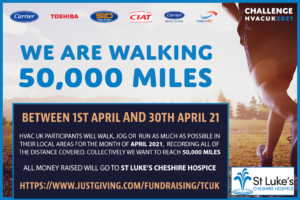 It's been amazing to see not the usual culprits pounding the streets and hills, but new people venturing out, no matter the distance (or weather!)
Since 1988, St Luke's has been providing palliative care, supporting people in ways that go beyond the scope and funding of the NHS. Last year they supported over 1,000 people with a huge range of support from end-of-life care on their ward to supporting carers, and from helping children cope with grief to helping patients return to work after an illness. they are a charity and provide all their care for free, so they rely on the generosity and commitment of their supporters to raise more than 80% of their costs.