Carrier's pioneering AquaEdge® 19DV water-cooled centrifugal chiller has been crowned Commercial HVAC Product of the Year – ACR and Air Purification, in the prestigious H&V News Awards 2020. Carrier is part of Carrier Global Corporation (NYSE: CARR), a leading global provider of healthy, safe and sustainable building and cold chain solutions.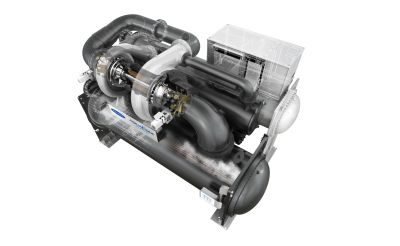 This latest award for AquaEdge in one of the most hotly contested categories follows a string of top accolades bestowed on the 19DV over the past two years, which have confirmed the chiller as the stand-out global product in its category.
The AquaEdge chiller is designed to offer the ultimate in flexible and efficient cooling and heating technology. Running on low Global Warming Potential (GWP) refrigerant R-1233zd(E), it is designed to minimise impact on the environment and future-proof buildings from changes in F-Gas-related legislation.
The judges in the latest Awards praised the chiller's "design features that are engineered to meet the specific needs of the refrigerants" and welcomed Carrier's "innovative approach to material use."
Innovative features include an EquiDrive™ compressor with ceramic bearings built to last the life of the chiller, a Variable Frequency Drive (VFD) that protects the chiller against 'dirty power', and a Smart Service display that provides maintenance staff with intelligent analytics on chiller operation.
With built-in capability for variable flow, heat recovery and free cooling, the chiller is designed to be reliable, flexible and energy efficient.
"We are delighted to receive this further independent industry recognition for Carrier's outstanding AquaEdge chiller," said David Dunn, managing director for Carrier UK sales. "Every building is different, and the design, usage and layout have a huge effect on heating and cooling needs. With its innovative technology and design, the 19DV is able to meet all requirements and offers an ideal solution for large buildings. Once installed, users may never have to think about it again."
The Carrier AquaEdge is available now from Cool Designs Ltd