Building our future support.
Introducing two of our rising stars, Shawni and Owen.  Shawni has been working on her HNC in Building Services and is about to start in her 4th year.  Some may be familiar with Shawni who has been running our Warranty support in recent years when not gracing the office with her cake baking skills!  Now moving across to pre-sales as Owen is slowly taking over on Warranty.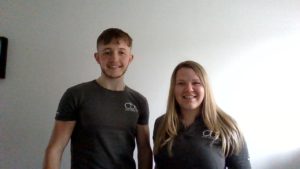 Owen has progressed in CDL at an impressive rate and is equally pleasing for us to help him start on his new path, with this year being his first at college undertaking the Refrigeration Air Conditioning and Heat Pump Engineering Technician / NVQ Diploma in Installing, Testing, and Maintaining Air Conditioning and Heat Pump Systems.  We wish them both well and continued success with Cool Designs.